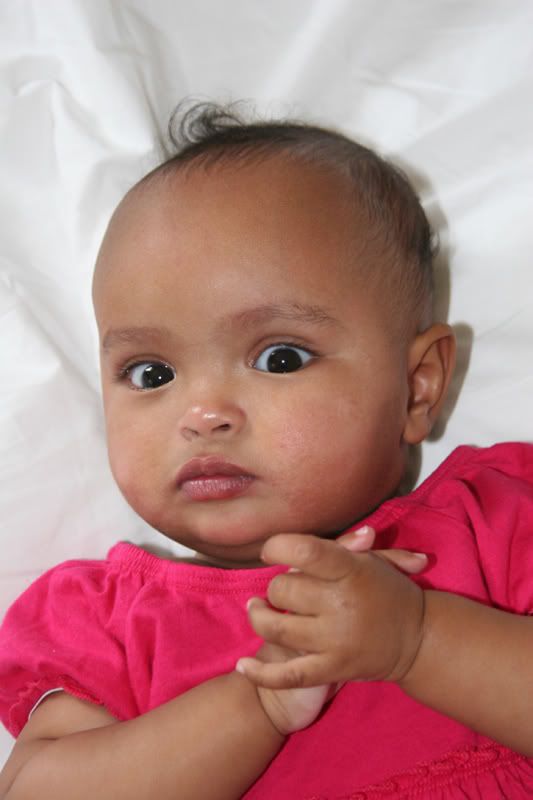 Elianna Ray, Pretty in pink
I'm sorry to be posting this update so late. Last night we enjoyed a torrential downpour and thunder, and a wild display of lightning like I've never seen before. It has rained at least a little every day here, sometimes heavily, but nothing like the deluge we saw last night. It was beautiful, but it made me grieve for all of the people living without a proper roof over their heads as well. I cannot imagine what that storm sounded like for those with a metal corrugated roof.
Evangeline and I pulled an all-nighter Monday night. She wasn't unhappy, just out of her normal time zone and ready to play. So yesterday we were both dragging a bit. But the sunrise was exquisite! We went out to the patio and listened to the clash of the Muslim call to prayer on loudspeakers and the bells of the Orthodox churches that ring out through the city. Once the music starts hyenas and stray dogs begin to howl and bark adding to the cacophany. So, we sat and watched dozens of bats flit around in the light of dawn in the land of honey.
Later Almaz and Danne and the rest of the group picked us up and dropped us off for lunch while they went to the embassy to get our exit visas and official documents. We have been having such fun together. Ricker, you would love Jake Belcher who is 11, too. His sense of humor is right up your alley. Anyway, we ended up getting stuck there at the restaurant for hours because of a goof up with Elianna Ray's visa, but it all got worked out and thankfully everyone forgave us for being high maintainance both yesterday and today.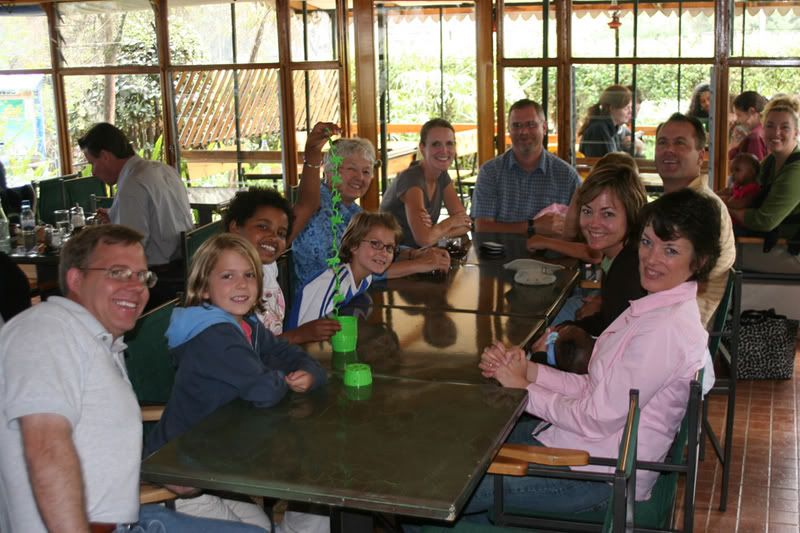 Our group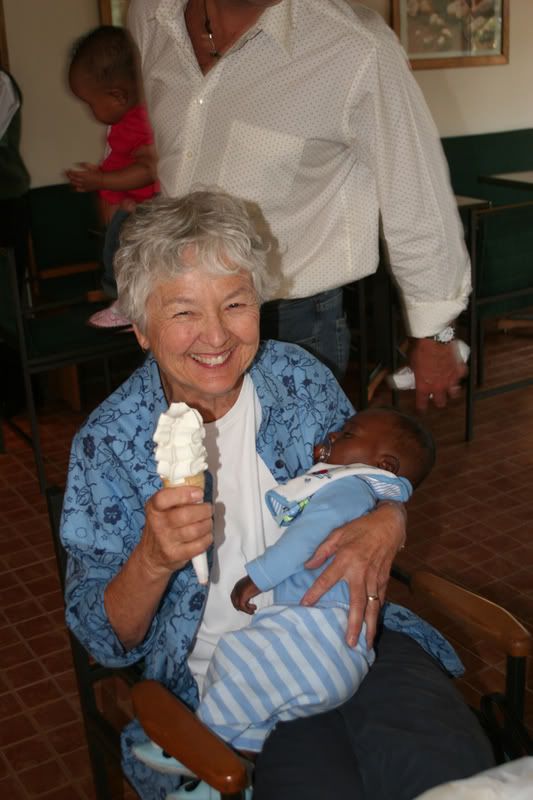 Grandma Carol with baby Caleb Fasika
Because of that time-consuming delay, we put off going to the Merkado until tomorrow and went back to our hotel. Michael and I weren't ready to call it a day yet, so we shopped a little at the boutiques here, walked around the hotel grounds, and sat at the pool for a while.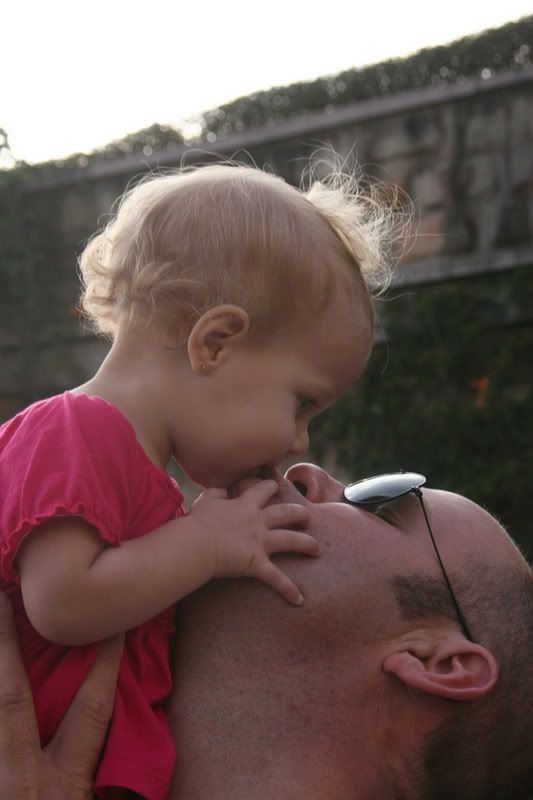 Evangeline broke her kissing strike today
I told you before that people cannot get their hands off Evangeline and today was no different. Everywhere we go strangers come and pick her up, stroke her hair and kiss her cheeks. I wish I could have gotten a picture of the lady in a full burkha who fell in love with Evie, but she didn't want her photo taken.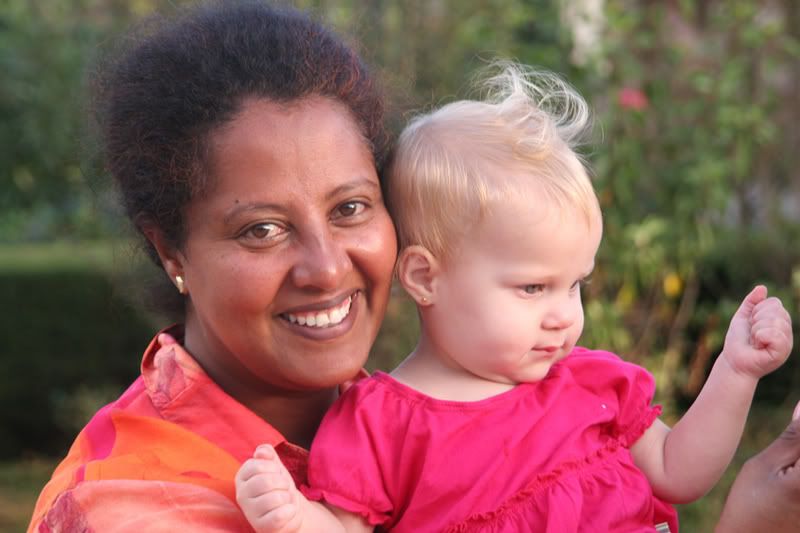 This is Esther, a new friend.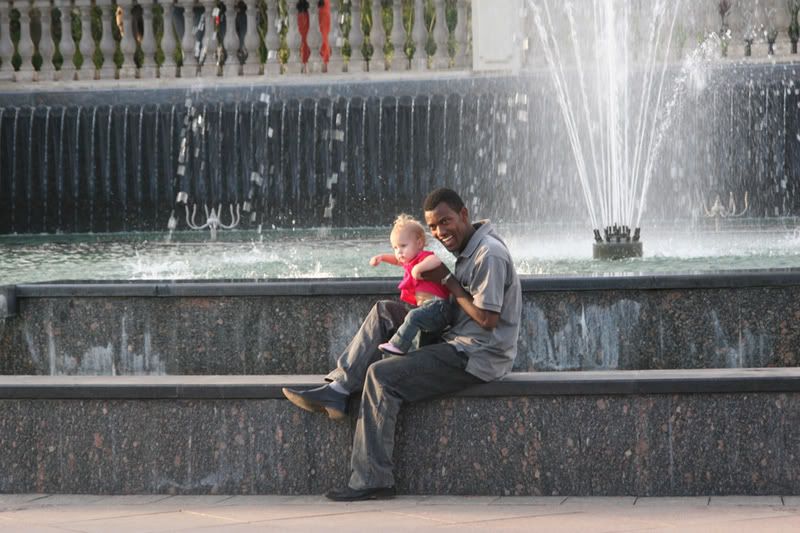 and Abdu
I didn't get these girls names, but the man with them (their husband?) walked off in a rush with Evangeline in his arms to bring her to them. I ran after him trying not to panic. He said, "I like blondes!"
Daniel loved holding Evangeline but she was done with strangers by then.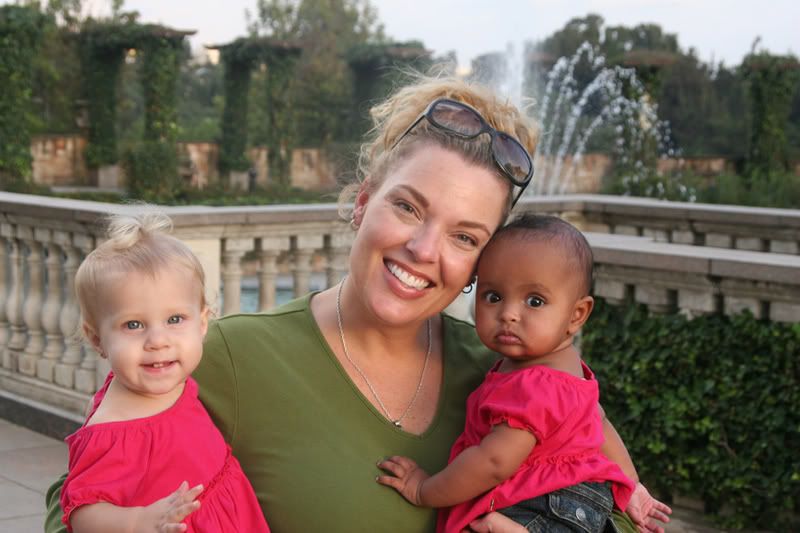 Michael finished "There is No Me Without You" a beautiful book about the AIDS crisis and AIDS orphans in Ethiopia) having cried his way through it as I did. He ended up the day feeling very sick with the Ethiopian version of Montezuma's revenge, so please pray that that clears before tomorrow so he doesn't miss our meeting with Elianna Ray's birth grandmother!
Margot, Ricker, and Jackie, you asked about the pronunciation of Addis Ababa. We've discovered that there are many ways of saying it. ADD-is or Add-EES, and Uh-BAH-bah, Uh-BAY-bah, or Uh-BEE-bah in any combination is what we've heard so far. The spelling differs, too, from Adis Ababa to Addis Abeba. Crazy, huh? The one thing that doesn't change is that everyone here says Ee-TYO-peeuh with no "th" in there. We miss you terribly! Have a wonderful day today. And, leave us a message in the comments! You too, gentleboys, not just Marg. We want to know what's going on with you guys. Loveyouloveyouloveyou!!!