We woke up this morning still feeling seasick, but we all slept much better last night, so that helped. Evangeline came down with a fever yesterday, poor baby. I think everyone in our group has been a little under the weather the last few days. Breakfast for Michael and I consisted of rice cakes and Ambo (sparkling water) and that was plenty. However, we didn't let that keep us from shopping! All of us, with the exception of Mike Redman who would rather keep his birr in his pocket (Suzi wrestled some out, thankfully!), have been looking forward to this for days!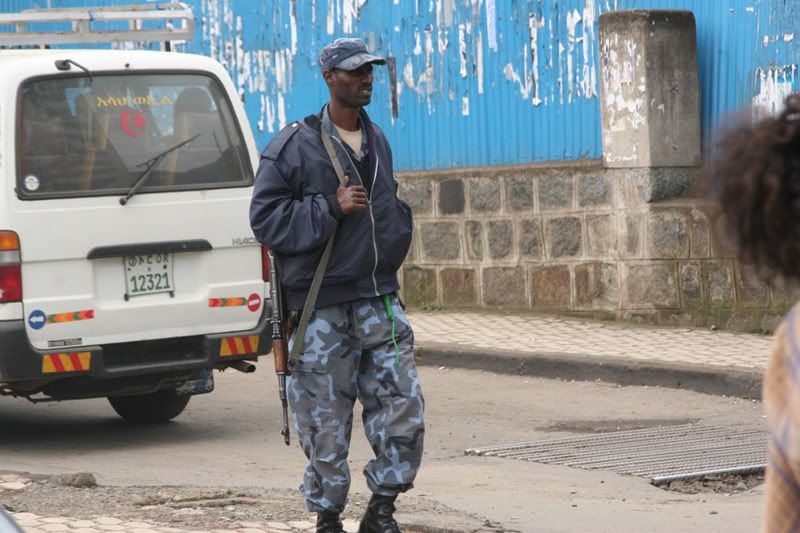 Ubiquitous federal policeman


We went to an inside market, an open air market, and back to the art gallery we dined at this week and bought some beautiful scarves and wraps, some silver Ethiopian Orthodox cross pendants, a traditional Ethiopian gown for Elianna Ray's dedication, an oil painting, and a few things for special birthdays down the road and her wedding.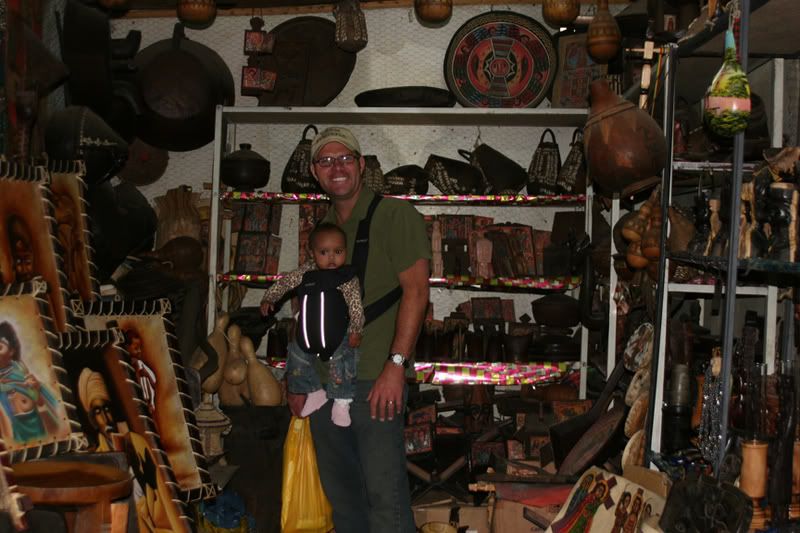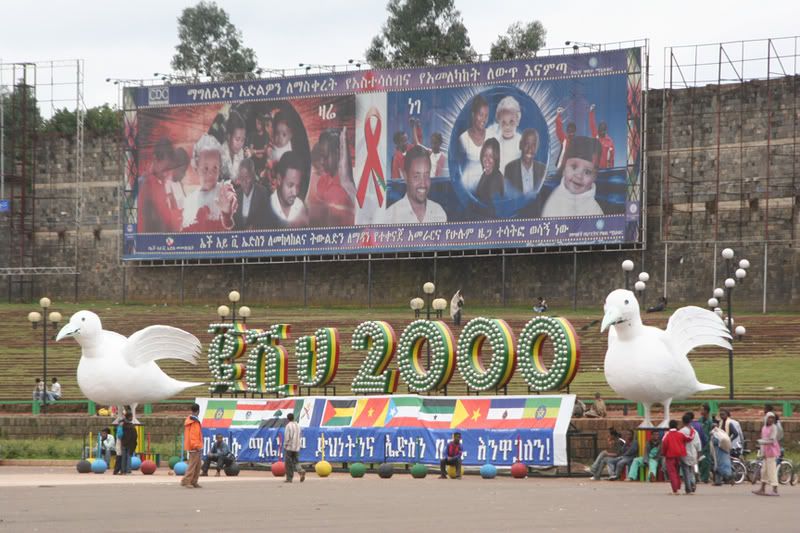 Preparations for the millenium celebration (Remember that the Ethiopian calendar is very different from our western calendar.)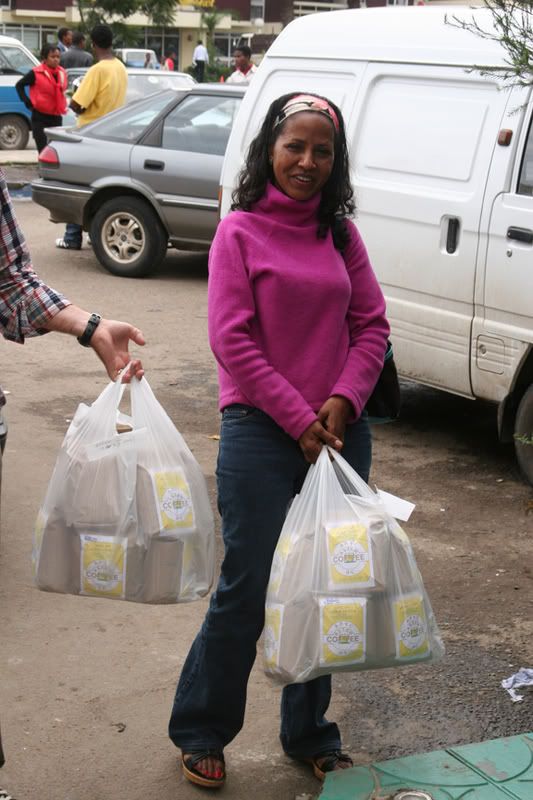 Almaz purchased our coffee for us... all 30 lbs. of it. I guess the kilo-pound conversion escaped us. So, you're all welcome to come over for coffee anytime for the next 5 years!
After we couldn't spend one more birr, we lunched at the Elephant Walk where Suzi and I apparently ordered mystery meat burgers, not all that appetizing to already sensitive stomachs. Back to the rice cakes. Actually, every meal is served with delicious rolls, so we just carbed it up.
Suzi & Grace Redman and me
Hope with two of our guides
It was our intention to hit some museums this afternoon, maybe even visit Lucy, the oldest known mummy at the Natural History Museum here in Addis, but we were too pooped. It is odd for us not to be exploring the city thoroughly as we usually would, so but this trip has been so short, and for an entirely different purpose, that it just hasn't been possible. We're not leaving disappointed. Next time, though, we're hitting all the hot spots!
Kisses for Mama!


Tonight we decided to go out for a traditional Ethiopian dinner with music, and dancers. Just one tiny hiccup occurred when we walked into a restaurant laden with incense that turned half our group green and sent them back to the hotel. The rest of us soldiered on and found a great place anyway, although we were sad to not be all together. The ride there was straight out of an Indiana Jones flick, though. Let's just say our route was exotic! All of us crammed into the van, off-roading it over train tracks, down what we think was a water runoff area or a riverbed filled with huge rocks, through a couple herds of goats, and mazes of people wandering the streets, all in the pitch darkness. Our need for excitement is now sated. Zac, Jacob, Abbie, and Carol, I'm so sorry you missed this experience and the food at Ijab. The injera, dips, and meats varied from "interesting" to delicious!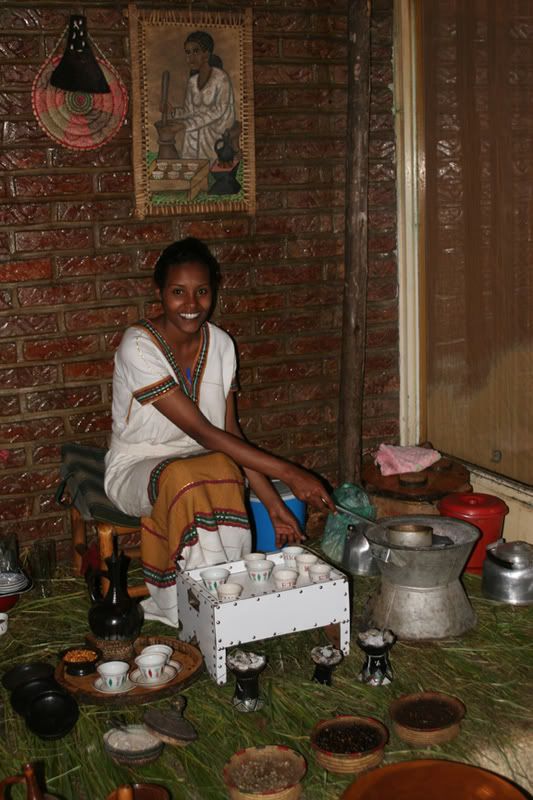 Preparing the coffee ceremony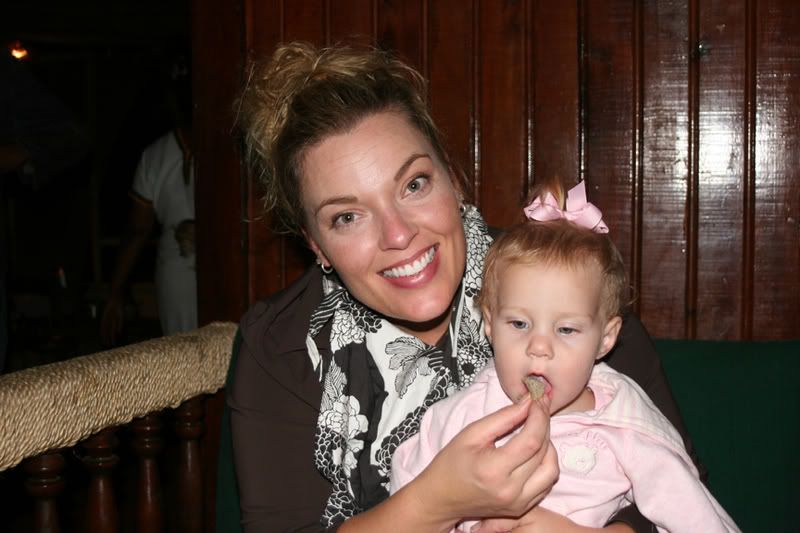 More injera please. We've had enough of rice cakes for today.
Tomorrow we're going back to Hannah's Hope to enjoy a special coffee celebration and kiss everyone goodbye and then we fly home late tomorrow night and arrive on Saturday. Home again, home again, jiggety jog! We are ready, too. As much as we've loved this trip, we're ready to bring Elianna Ray home to her older sister and brothers.
Margot, Ricker, and Jackson, I can hardly wait to get you into my arms! I miss you terribly. Is today the day you're going to Wild Rivers waterpark? Have fun at VBS. Smoochies from Papa, Mama, Evie & Ellie! I'll try to update you again before we take off, but if I can't... See you in LA!