Kisses for Papa
Wow, this week has flown! It's travel day already!
This morning Wende took us back to Hannah's Hope to say goodbye to the other kids and the staff and to enjoy a special coffee ceremony. Michael and I got to take a thorough tour, led by Hope Schneider, all over the compound. What a beautiful job AGCI has done to make this property a warm and inviting home for the kids here! Each bedroom is clean and tidy. The walls are freshly painted with murals of happy designs. As we walked through, it's clear that the kids are very proud of their beds and rooms. They raced around pointing, "See! See! Is for me!" What a wonderful place to wait for a Forever Family!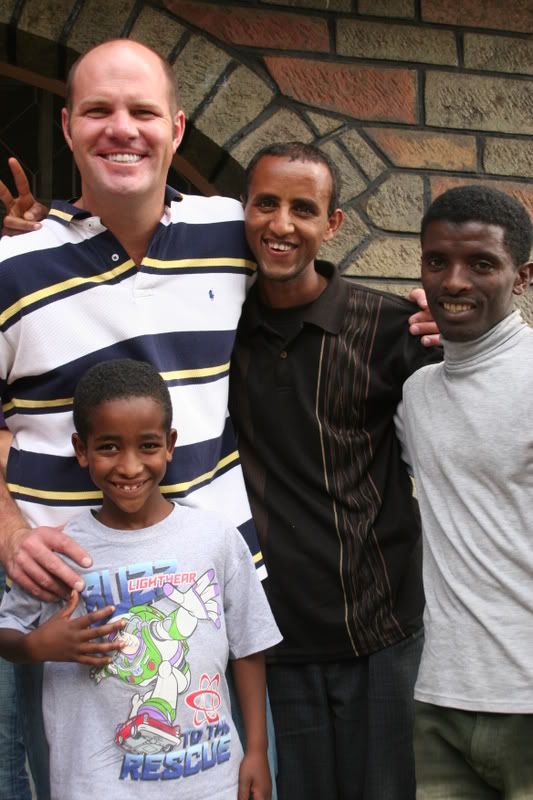 Michael and I brought over the last of the bags of donations for HHE and this bag happened to contain toys and candy which were a huge hit!
THANK YOU to everyone who helped us bring supplies and gifts to Hannah's Hope! We were able to buy more than 350 lbs. worth of diapers, wipes, formula, shampoo, vitamins, clothes, toys, and treats for the staff (like deodorant and gum). And, especially after seeing the great need there, it was one of the biggest blessings of our lives.
After the tour, the staff invited us to watch the coffee ceremony and eat some delicious traditional bread. It's baked in a huge loaf that looks like a cheese wheel and tastes a little like beer bread. Yum! The coffee that was served was delicious, too. The director of HHE prayed over our families and the children coming home with us. As soon as I can I'll get down his exact words because his prayer was so moving and beautiful. All of us were misty.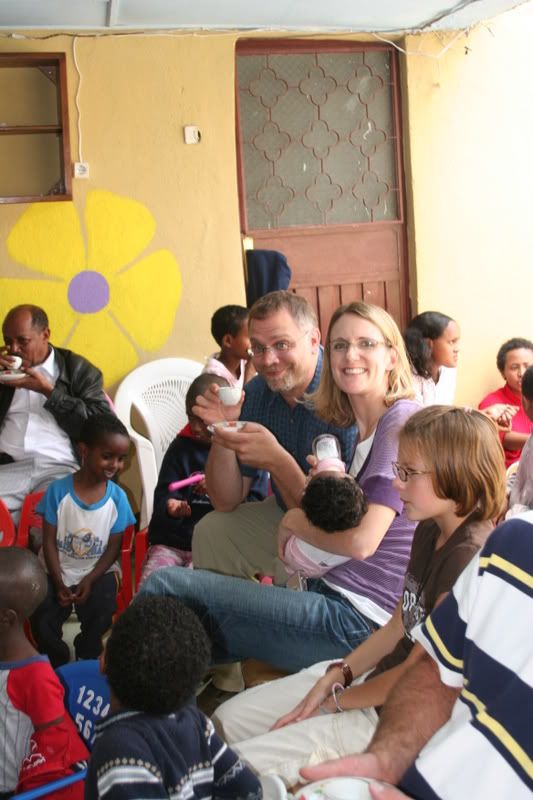 We gave kisses all around and then drove off while the kids and staff ululated and waved us goodbye. What a precious memory!
Thank you, Lord, for our beautiful baby, Elianna Ray. Thank You for this amazing time in Africa. Thank You for Hannah's Hope, Almaz, Danne, Wende, and the staff here. Thank You for our travel companions, the Belchers, the Redmans, and the Schneiders, whom we now think of as family. Thank You for safety in travel and in Ethiopia. Thank You for keeping us well in this country where serious illness and disease is rampant. Thank You for Your provision and care for our children from their births until we could come bring them home. Thank You for delighting in all Your children, dear Father. Thank You for loving each one, from every race and nation. Thank You, Lord!