We are thrilled to announce
that Elianna Ray
is officially OURS as of today!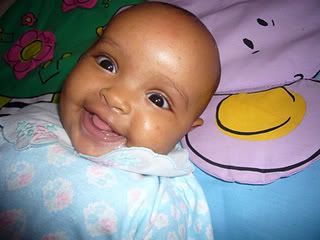 (More photos
here
. As usual, email or leave a guestbook message for the password.)
PRAISE THE LORD! This morning when we heard, pandemonium erupted at our house and in the houses of our family and friends when we made those calls. All across Orange County and beyond there was a lot of whooping and hollering, much shrieking and aaallllriiiiiiights!, and even a little dancing to 80's music. Ricker exploded into the Running Man, Stirring the pot, the Robot, moonwalking, and belly rolling while "woot woot"-ing. Marg pogoed around and Jackie just laughed and laughed at the rest of us going wild in the family room to the English Beat!
Then we praised the Lord together thanking Him for this beautiful gift He's giving us, a daughter and sister!
"I will praise You, O Lord, will all my heart;
I will tell of all Your wonders.
I will be glad and rejoice in You;
I will sing praises to Your name, O Most High." Psalm 9:1-2



What JOY! We are elated!
A few days ago one of our travelmates, Lori, sent us Daniel 1:9 "Now God had caused the official to show favor and sympathy to Daniel..." What a comfort to read in Scripture that the Lord can and does CAUSE a change in the decisions of government to bring about His Holy will.
So, we are leaving on the 17th to bring our little sunflower home. Feel free to join in on the happy dance! I think all of heaven is doing a jig (but maybe not the Running Man) along with us! HOORAY!!!