Seriously, I'm ill-equipped for this. Packing for a family of seven is proving to be a little tricky. But, I'm having so much fun, too! We're used to packing everything but the kitchen sink, but this luggage stack is already reaching an all-time high. And, there are towers of diapers, wipes, baby paraphernalia, and toys for HHE, too. It is SO COOL it makes my heart rejoice. Here's the growing pile:



However, I think we're going to need one of those airport golf cart luggage transfer thingies just to get it all down to the street! We just may need two Super Shuttles.

The older kids are busy with tennis & swim camp this week: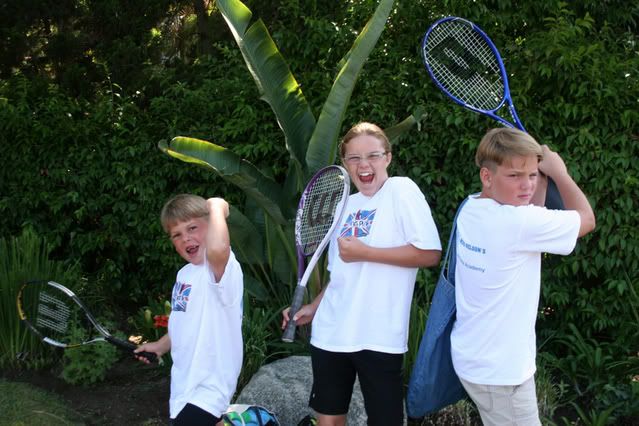 Michael loves that Elianna Ray's legal name right now is Betelihem Michael Hausam because in Ethiopia your name consists of your given name and your father's name. He's considering changing all of the kids' names: Margot Michael Hausam, Ricker Michael Hausam (actually he's a jr., so he'd be Michael Michael Hausam), Jackie Michael Hausam, Evangeline Michael Hausam. Maybe the dogs, too. Hamish Michael Hausam and Haviland Michael Hausam.

Now everything in our house is something Michael Hausam. I drew the line at Laurie Michael Hausam, and he's not 100% thrilled with my decision. Have mercy!

Anyway, the nursery is almost ready for two babies now. Two cribs. So sweet. The kids are ready to meet their sister. And we are dying to get our hands on her! We're down to the last minute paperwork and arrangements... and the packing, but I don't want to think about that again just yet.

I got a touch of the 9-months-pregnant jitters today, just a weensy bit of the new mommy panic. Then I realized that I still have to get our school materials and schoolroom organized before our new school year starts the Monday after we get back. Oh dear. But, I'm so excited, too, like a new mommy. Talk to me in five minutes and I'll be at the other end of the Yikes/Yipee Spectrum again! Michael's feeling the same way, so at least we're in it together!

Also, we're so glad that our dear friend Kim Hollenbach (newly dubbed Kim Michael Hausam) will be staying at our home while we're gone. Kim will be bringing her daughter Evangeline (yep, she's Evangeline Michael Hausam II) out to attend Biola the night before we leave **YAHOO! Yeah Evie! California, here you come!**. We couldn't ask for a more fun pre-trip treat.



Now Michael is mumbling, "Biola Michael Hausam? I prefer Westmont Michael Hausam." This is going to last a while.

We're so thankful to be doing all of this preparation to travel now and not a few months from now. It's absolutely incredible. Not a day goes by when we don't look at each other and say, "Wow, God is so good!" Thank You so much, Lord!

Well, I'm off to reorganize the luggage Michael Hausam.