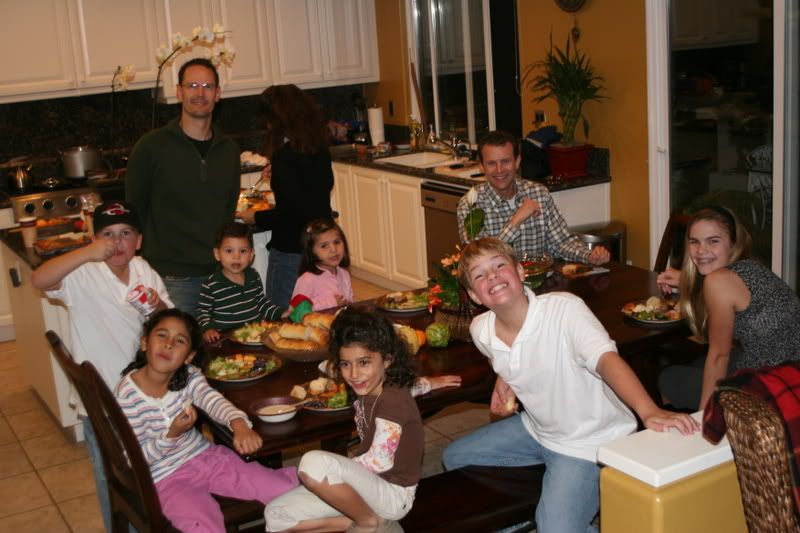 We had such a fun time last Saturday night with our Orange County Ethiopian Adoption Network friends. Two new families came to the Fall Family Supper, the Christiansens and the Mastrellas, and it was wonderful to hear how the Lord directed them to adoption and Ethiopia. In fact, we all shared about how we decided upon Ethiopia. It was so interesting that the instigating reasons were quite varied and yet we all had to ask some of the same tough, very non-PC, and often uncomfortable questions of ourselves:

How do I

really

feel about raising a baby of a different race?
Is there any prejudice in my heart for any race/ culture?

Do I prefer one race over another? Would I want a Chinese daughter more than an Indian one? Or a Guatemalan son more than Vietnamese?
Why Africa? Why Ethiopia?

Why do I want to adopt internationally vs. domestically? What are my motives?
What about our families and friends? Do they have hidden prejudices that will seep out?

How do I feel about Grannie/Dad/whomever being a closeted (or loud-mouthed) bigot? Does it matter? Does that change our relationship? What is my response going to be?
How do I make peace with the fact that some people will feel negatively about my child and some will ask rude questions and make ugly comments?
Ouch! Those questions seem so taboo! And yet, you HAVE to look at them honestly when you decide to adopt internationally. And, basically we all came to similar conclusions about what the Lord desires, who we are, what we want, and how we feel about building our families this way. What a fantastic conversation we had! At the end of the night I found myself wishing we had taped it so that I could hear it again and also to be able to share it with others who haven't found a safe place to voice delicate concerns and thoughts.
On the tail end of that we came up with some ideas on how to respond to boorish questions:
"We chose a black baby because there aren't any purple ones!"
"Fertility clinic mix up"
We prefer African babies. They're cuter.

"What?!? She's not white?!?"
"Actually I'm a light-skinned African American."
and my personal favorite:
"Shhh! My husband doesn't know she's not his!"
Most of these came from Amanda and Karen who kept us in stitches all night! You two are a hoot!
I'm so thankful to the Lord for this incredible group of people. I'm thankful that we are praying for each other, for the whole process, and especially for our babies who have not come home yet. Last Saturday was a wonderful time, and I can hardly wait to see you all again. And, I can hardly WAIT to meet the little ones that God is bringing into your families!