Ta-DA! The new look. I had 16 inches of hair lopped off yesterday!
Years ago I whimsically said, "I'll wait to cut my hair until such-and-such happens." HA! I think the Lord laughed at me.
Fat lot of good it did me anyway! As
Emily
said, it's NOT that I believed that not cutting my hair would somehow bend the universe to my will, or the Lord's will to my wishes. It just seemed like a good way to mark time and remember to be in prayer. But, my timing is most decidely not His timing. So, I finally threw in the towel and chopped it all off!
Now Haus says I have "college hair" (the same style I had all those years ago when we met)! Poor guy is a little sulky that he can't have college hair again, too.
So, how heavy is hair anyway? I wonder how much that will register on the scale??? Does that count towards my health-conscious resolution??? I guess not since it doesn't help me fit into my skinny jeans. Phooey!
Now it's your turn, Emily, if you're game!
Then, after schoolwork, we hit the beach because it was just way too pretty outside. Poor Ray Ray got smacked by an errant wave, though, so we drove home with a very sad babysicle, but here are a few photos of happier times.
Jackie
How gorgeous is this?

Margot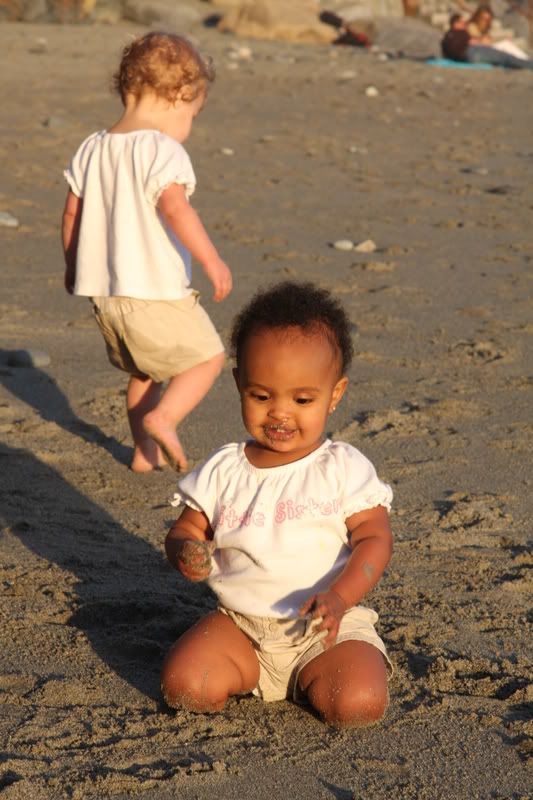 Ray Ray just before disaster struck
Evangeline saying, "No NO, wave!" So cute.